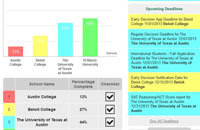 Anybody trying to figure out how to organize and track their college applications should take a look at ApplyKit.com. The premise is pretty straight forward, select the schools you are going to apply to and the application pulls all of the relevant deadlines onto one easy to use webpage.
Each school is color coded so that you can conveniently check deadlines on the calendar. There is an application checklist for each school with deadlines for transcripts, test scores, letters of recommendations, interviews, and essays.? As you mark items on your checklist, the dashboard updates what percentage of the application is complete.
The right-hand side of the dashboard displays the upcoming deadlines for your selected colleges, recently completed actions, and any notifications. The left-hand column has a news feed of items from your selected colleges.
Each school has its own folders to store documents and track test scores as well as a template for thank you notes. The folders also include areas with text editors where you can write essays or copy interview notes.
The application allows students to add parents, teachers, and counselors as collaborators. The collaborators don't? have access to the account except for files that students select to share. They do receive weekly emails showing your progress and any upcoming guidelines.
There are a few areas the website could improve on. There's a one page profile for each school and some of the deadlines are not correct. It also shows test score ranges and the average GPA. The graph showing other schools with similar acceptance rates isn't really useful nor is the pie chart of the cost breakdown by tuition, books, and housing. You kind of get the impression that they were looking to add some color and these stats were the most likely to be complete.
The compare feature is generating some sort of database error. You can see the information on school type, location, size, and student ratio. Again, not something really useful. You would assume that you're already aware of this information since you are applying to the school.
Despite some minor bugs which I see just as growing pains, I'm really impressed with this website. The interface is clean and easy to use. The dashboard is very well laid out and the navigation is fairly intuitive. Offers from the websites' sponsors will show up in appropriate places but it doesn't really detract from the website's usefulness. If you haven't found a way to track your applications yet, definitely take a look at ApplyKit.